Bottle holder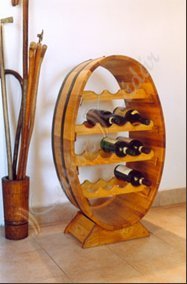 There is no better place for the wine from the barrels, as an elegant bottle holder in the style of the barrels.
The oval body stands on a curved foot, the surface is lacquered.
This decorative piece of furniture can not stand only in wineries, but also in homes as attractive accessories.
The product is available in three sizes for 7, 15 or 24 bottles.
Ornamental barrels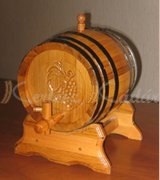 The small barrels are made in sizes 1-2-3-5-10 liters, of oak, mulberry wood, cherry wood and acacia wood.
The small barrels can be used not only as decoration but also as a container, or - when guests arrive - to offer drinks.
The sizes of 5-10 liters are manufactured with the traditional, on fire curved method. They are also suitable for aging.
Each size comes with stand and spigot.
The small barrel can also be a great gift. On request we can engrave a pattern, monogram or a short text on the barrel.
Barrel-shaped bar cabinet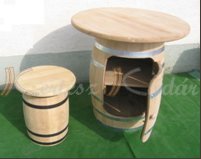 Built out of barrels bar cabinets, bar tables and chairs are very special because of their playful design.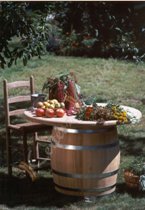 They serve as decorative pieces of furniture or beautiful decorations outdoors, in cellars or in weekend houses.