Flower pot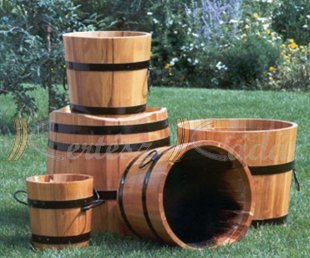 Our planters are made of acacia wood, they serve in the worst weather for 15-20 years. The staves are clamped together by black or galvanized iron. Painted surface, oiled or lacquered.






You can carry the bucket with handles, or if requested we can also build on wheels.





Each plant trough is provided with feet, so the remaining water can drain quickly and the soil is aerated. We can customize our bucket with two types of feet.
Lying barrel-shaped flower pot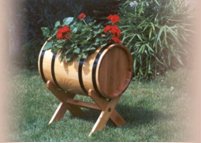 The bucket on X-legs can serve as a low fence or delimiter of gardens and terraces.
Balcony chest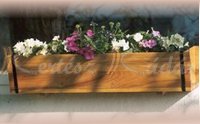 We offer our chests as decorative elements of balcony windows, window sills, balustrades.
Flower tub
One of the classical solutions for plants are tubs. We recommend a normal size for smaller trees or bushes, and the lower ones for annual plants.
Corner vat
The circular section-shaped flower pots are used for filling the corners, you can also put them together differently.
Hanging basket
With the runners in small hanging baskets, we can pretty terraces, large wall space.
Flowers chest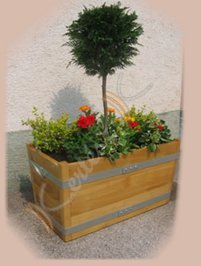 With the square chests flowers you can make great compositions of small trees, shrubs and flowers.


Rain barrels, Water tubs
Water tank - open on the top, classic wooden barrel
Water tub
The collected rain water is ideal for watering our plants. The water from the gutter can be stored in rain barrels aesthetically. The water tanks are made of acacia wood in various sizes.